DABUSB
Timeframe: 1999-2002 (including side projects)
Type: Own development of HW&SW
Status: Engineering samples available at BayCom, later licensed to Terratec (DR Box 1)
Keywords: DAB, USB, 8051, FPGA, VHDL, PCB design, Linux and Windows drivers
Description:
PCB containing

DAB receiver module (Bosch DFIRE-1)
FPGA (FIFOs, glue logic)
Anchor/Cypress EzUSB with 8051 core
Audio DAC
SPDIF converter
LCD and keyboard interface
Power supply

8051 firmware

FPGA download
Controlling DAB module via USB commands
USB handling of I2S (192kbyte/s) and RDI (384kByte/s)
Full DAB radio in standalone mode

Windows and Linux drivers

RDI and control interface to user level application (DAB-Server, data service decoders)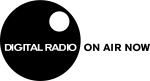 The Box can be attached to any computer with USB port.
The Terratec DR-Box 1 is software compatible with our DAB-USB. If you want to use the DR-Box 1 with Linux, you need the packages dabusb-linux-drivers and dabusb-linux-i386 from our download page.

Technical data of the DAB-USB-Interface:
Operating System: Linux, 2000, XP
Port: USB (Universal Serial Bus) for RDI und decoded Audio (I2S)
Receiver: Bosch DFIRE-1, (DFIRE-2 from 02/2000)
Analog audio outputs: 1 fixed volume (line output), 1 variable volume (headphones output)
DAB-Applications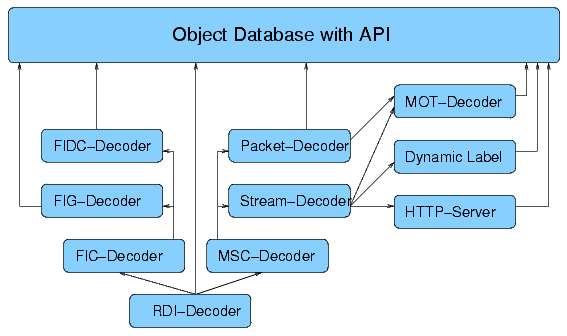 Fig: DAB-Server architecture
The 'DAB server's communication protocol is based on HTTP and supports these features:
Web-based and authenticated configuration of server parameters, like tuned frequency etc.
User accessible statistic page of tuned ensemble.
Simple HTTP-based API to retrieve FIGs,
Streamserver support for MPEG- and Packet-data-streams.
The Data-Decoder is a client-application that supports these features:
Decodes all known packet types of PAD and Packet streams (MOT 2.4, Dynamic label, XPAD, IP Over DAB, DGPS via DAB)
All decoded data can be displayed using any web browser.
All dataservices of an ensemble are decoded simultaneously.
Dynamic labels are kept in a history list.